Our trip to Atlanta was so fun. Except of course the aforementioned distance in between us and our destination. The girls love to stay in hotels. I love to stay in hotels too – but preferably the ones that have a heart shaped hot tub in the room. Unfortunately this was not one of those trips. It did have a bathtub in the bathroom if that counts for anything.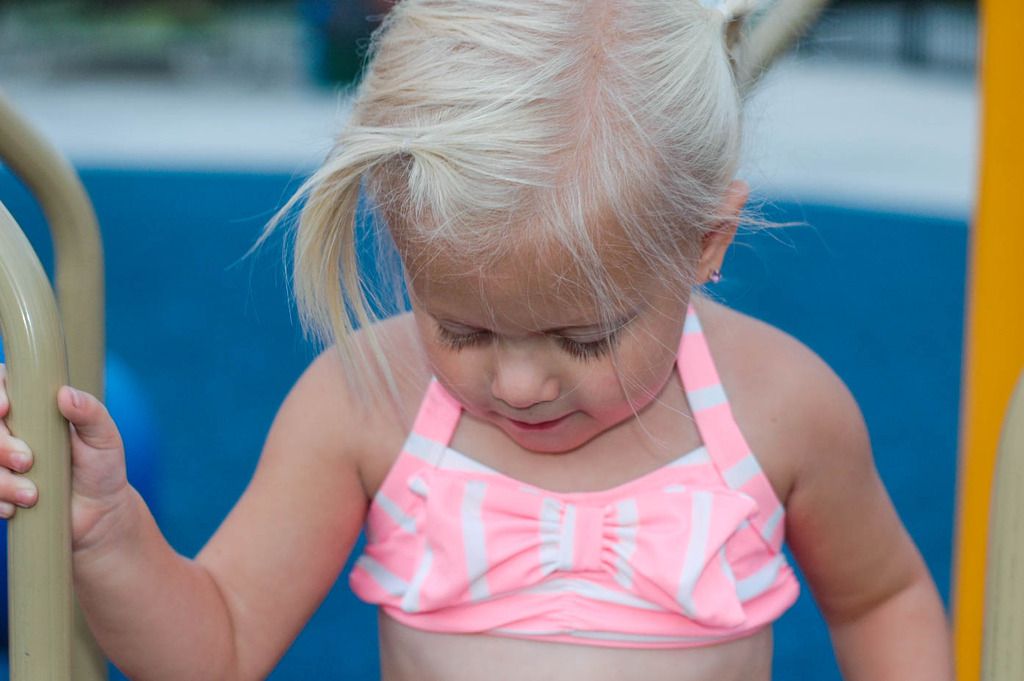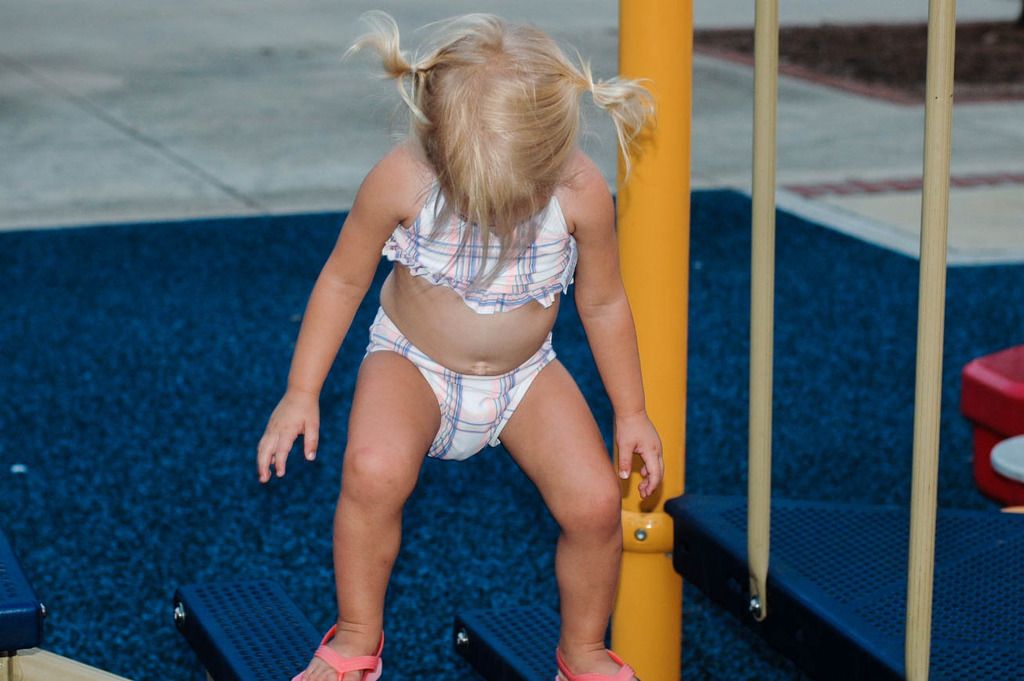 Gwen's Suit: Old Navy <– HOT DEAL Right Now
We got in really late and basically hit the hay as soon as we rolled in. Well, the girls hit the hay. I caught some Zzz's only after purchasing a Stouffer's microwaveable mac and cheese dinner and a Dr. Pepper from the hotel gift shop, stuffing my face, and watching 2 episodes of Scandal. Priorities right?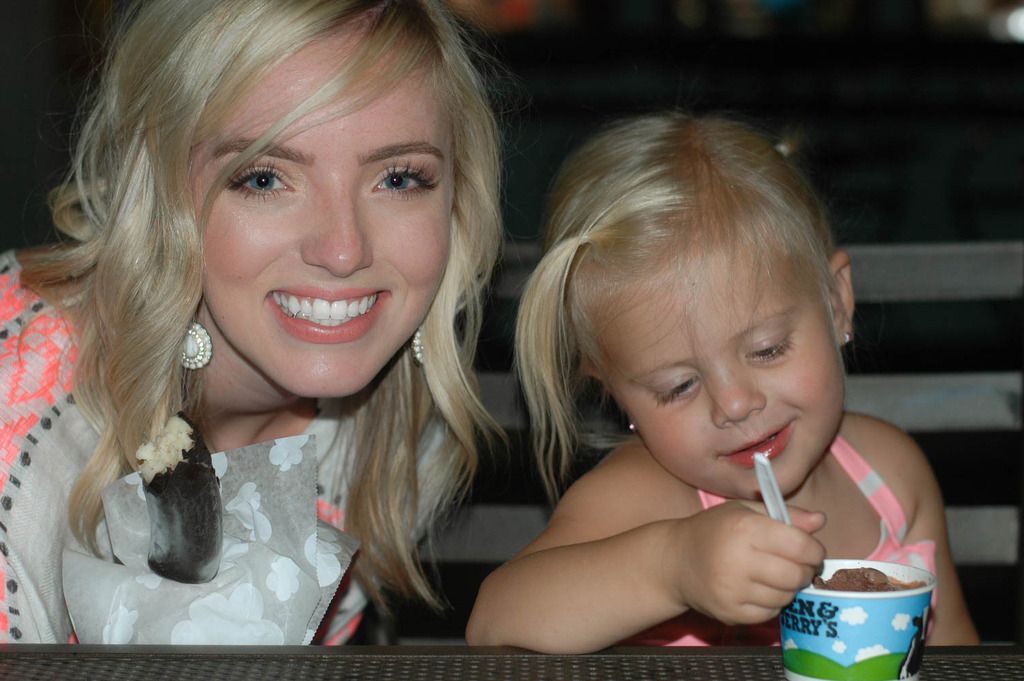 We stayed right in the heart of The University of Georgia. It was fun to explore the ma and pa restaurants and walk around. And when I say fun I mean it was about as fun as cardio. It basically was cardio. You push a loaded double stroller up hill in 100 degrees and 90% humidity and tell me that's not equivalent to a session of Shaun T's Insanity. The fun part was getting to the air conditioned restaurant and replenishing the calories we burned from walking there. All in all the food was good in Athens. That was the resonating theme of the trip. Food. Which ironically seems to be the theme of my life.
Another hit was the pool. Nora and Gwen love the pool. The funny thing is we have only been to the pool on base once. We should frequent it more often but we've got the beach down the street, and the splash pad in our backyard which we are a little more attracted to. Sorry pool. Maybe if you had a concessions stand with ice cold soda and pizza? There we go again with the reoccurring food theme. Food is seriously my love language. (If you're thinking, she says that about a lot of stuff – refer to this post. It explains a lot.)
Gwen hit a big milestone on our trip. She learned to use The Puddle Jumper. If you have a toddler and don't know what a Puddle Jumper is, you are seriously missing out. It's a revolutionary floatation device I tell you. When the girls are wearing them I really feel confident that they are safe in the pool. I'm not saying you can sit outside the pool with your face in your cell phone while they fall in and a gorilla plays tag with them, I'm just saying you don't have to be holding onto them every second. They can really explore the water on their own and learn the proper position to swim. But hey, I'm no mother of the year so don't take my advice. I certainly don't wanna get sued for it later. Or hate mail.
Nora's suit: Old Navy Similar
My suit: Shade & Shore at Target
Gwen's suit: Target
We got to visit the Children's Museum of Atlanta and it was an overload of fun activities for the girls. There wasn't enough time for them to enjoy all the areas in the museum. Our favorite was definitely the mock Waffle House. The plastic waffles weren't quite the same. However, they did come without the usual diarrhea that the Waffle House will send you on your way with. I really love children's museums. Hate the label though. Like that they are only for the children? I really just wanted to play in the mini grocery store and make castles in the moon sand but based on the name it seems like it may be frowned upon. If anyone knows of an adult museum let me know. .. Or not – that may be something entirely different that I want no part of. Forget I said that.
The best part of the trip was spending time with Grandma Shell and Pop-pop. Those are my parent's nick names btw. They were so generous and spoiled the heck out of us. I love the relationship my girls have with their grandparents and the excitement they experience when they spend time together with them. It's touching to see the love fostered in those relationships. I'm grateful for parent's who love and cherish their grandbabies … maybe even more than their own kids … We had such a great time and look forward to the next visit we have from Grandma and Pop-pop.