That time has come …. and gone. But who am I if I'm not late to post something .. am I right?
Halloween this year was a blur. A lot of fun. A lot of sadness. It drug on and flew by all at the same time. That's deployment for you. Trying to enjoy the time that seems to never pass. Forcing yourself to smile some days, and then finding it comes naturally every once in a while. Confusing and painful but there's good to be found in the mess. … If you look hard enough.
[show_shopthepost_widget id="3790708″]
There was absolutely beauty to be found in THIS mess. Because our costumes turned out top notch, if I do say so myself! I procrastinated the crap out of these costumes. Didn't end up pulling my sewing machine out until October 10th. That's not a lot of time for a mediocre seamstress such as myself to sew a family size mess of costumes. But we conquered. And I was grateful for the distraction from the long, quiet, lonely nights.
For the Alice costume – I followed this pattern from Molly Sews. It was very easy to follow and (for the most part) easy to sew. This tutorial covers the dress and the apron and score! They're both based off of the same pattern. And another score – the pattern is sized NB – 10 so you know what that means …. matchy matchy!!
For the Queen of Hearts costume – I winged it. (Winged it? Wung it? I am really not sure what the proper tense is …) I have made many a tutu's before. Measure the waist. Cut the elastic. Sew it together. Slip knot the tulle over and over and over again until your fingers are sore. And then some more. I also added some ribbon into the tutu that complimented the Queen of Hearts theme. I made a thick belt – per se – of tulle and sewed 5 strips of ribbon onto it horizontally. I followed the same steps to make the collar but instead of sewing the elastic, I used velcro so we could get it on and off her neck easily. I used very short pieces of white tulle and only covered 3/4 of the elastic leaving the velcro closure uncovered.
For the crown, I purchased some gold glittery cardstock. Cut it down to the preferred height and add the top detail then staple ends together. Two hole punches, a strip of elastic thread and you've got yourself a crown!
[show_shopthepost_widget id="3790708″]
For Tweedle Dee and Tweedle Dum I used this tutorial for the collars (although I did a lot of free handing them to make them the right sizes for Tweedle Dee and Myself.) And this tutorial for the bow ties. I made mine quite a bit bigger than the original since I am an adult and the other is a baby. Instead of sewing a neck band for the bow ties – I strung a piece of elastic thread through the back and tied them around our necks. I purchased these hats from Amazon (Adult, Toddler) and followed this tutorial for the straw portion on the top of the hat. Gildan was the perfect brand for the T-shirts because I knew they made family sizes, thus the yellows would perfectly match. Daisy is the name of this shade of yellow.
[show_shopthepost_widget id="3790708″]
Overall I loved how this family costume turned out. The only way it could have been better is if Daddy had been here to be Mr. Rabbit. We miss him …. and we hope that G. D. care package gets to him sometime soon! Hopefully you like moldy baked goods babe! 4 weeks parcel time is not ideal.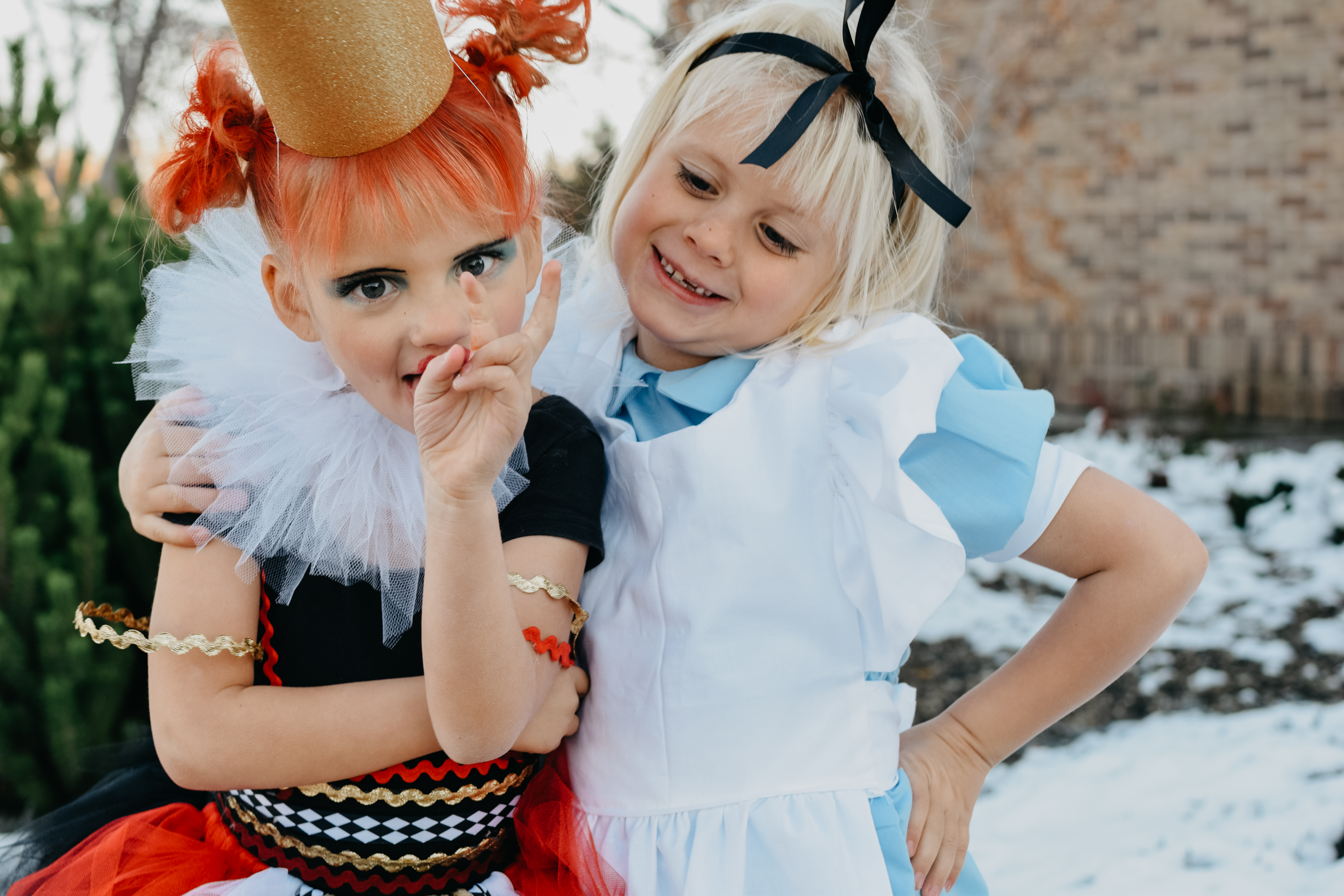 Thanks for reading guys! I'd love to hear your thoughts on this years costumes!
[show_shopthepost_widget id="3790708″]
[show_shopthepost_widget id="3790708″]