This shop has been compensated by Collective Bias, Inc. and its advertiser. All opinions are mine alone. #StayConnectedWithVTech #CollectiveBias
I often wonder how moms survived "back in the day" … without all of the technology, products, and adorable little outfits we have these days. One things for sure. They may not have had car seats but I have no doubt that any baby born before 1965 was ever seen without socks. I'm convinced. Based on the amount of Grandmothers passively pointing out that my baby was sock-less and sure to catch a rare disease from the lack of said socks. Their children slept on their tummies and rode around in moses baskets … but their feet were warm.
I love the technology that we have today! I can't believe that I can see my baby from my cell phone while I am in another state. It blows my mind! Not as much as the amount of poop that my 18 month old can produce in one day does, but still. Mind blown.
Our car seats are top of the line and have more features than I even understand. They have invented contraptions that physically release your infant's gas so they don't even have to fart for themselves. Adults are criticized for farting in public … babies are forced to and then celebrated when they do. I'm sensing a double standard here …
The gadgets and gizmos we've got are a'plenty. And we don't even have to step foot in stores to purchase them. This was so helpful to me when I was pregnant with Baby Tess and put on bed rest. The buybuy BABY website was my best friend.
We have loved the The VTech RM5762 Wi-Fi Remote Access Video Baby Monitor. It provides us the peace of mind we, as parents, crave with littles. It's so helpful to know just exactly what's going on in that crib of theirs … and when it's going on. And I can do that without even cracking open the nursery door. (Thank goodness because Tess will wake up if I even think about checking on her.) If I am worried about her, I either check on her from the monitor, or from the convenience of my phone (if I can find it at that given moment.)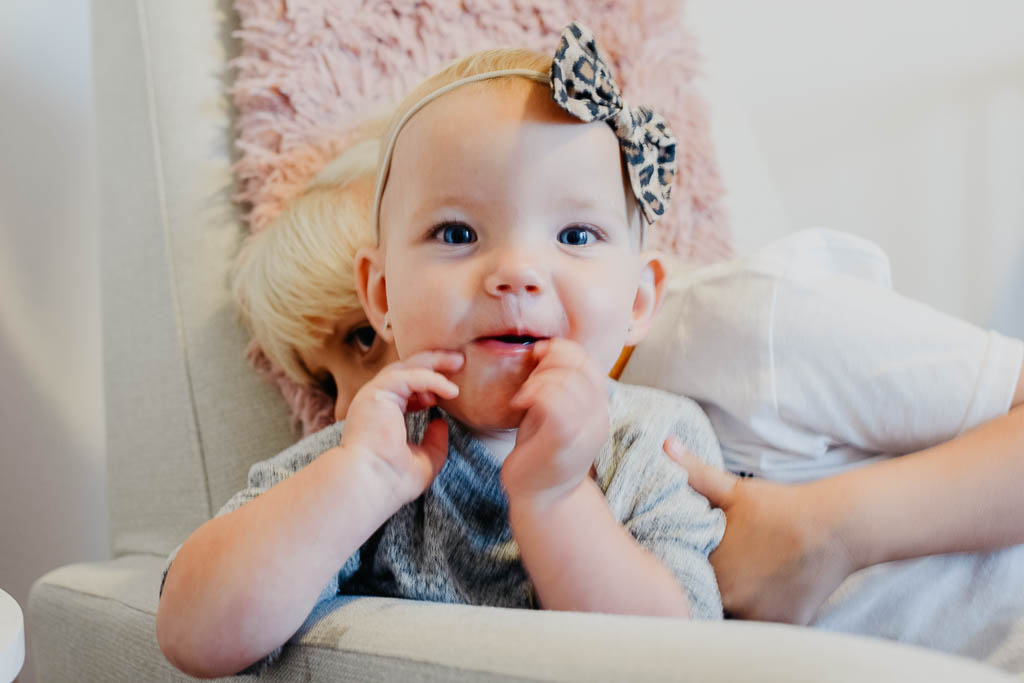 Everything "baby" is so trendy right now. It's the reason I pay more for my kids' shoes than my own. It's the reason I cried about not being able to finish Tess' nursery when my Doctor sentenced me to bed rest until she was born. It's the reason my Pinterest board for "Baby Stuff" has the most pins of all my boards. And it's the reason I love my The VTech Video Baby Monitor http://cbi.as/a3fdj​ . It's not only feature rich, but it's modern and stylish as well.
We all know that there are a million and one opinions and methods to parenting. We all do it differently. VTech knows the beauty of diverse parents. Every family approaches parenting differently, so they've designed an assortment of baby monitors that allow parents to choose the best unit for their style. Whether they want a simple audio monitor or would prefer an option with audio, video and soothing lullabies, VTech offers the product versatility they need. As a mom of older (who am I kidding, Nora is never gonna be old. 7 is still a baby right?) and younger kids, I appreciate that their products come equipped with features that can be used as children enter early stages of independence and additional monitors can be added to the system to keep an eye on multiple children in different rooms.
If you don't have a monitor with video capability, I highly suggest it. It will give you more peace of mind than socks on your little one's toes.
Check out these other cameras from VTech that are sure to fit your parenting needs.
-VTech RM5762-2 Wi-Fi Remote Access Video Baby Monitor with 2 Pan & Tilt Cameras