Tis the season folks! Tis the season! Tis been the season since November 1st in my opinion, but the many Grinches in my life hate me for even thinking Christmas before Thanksgiving. I would just like to point out one very important fact … there is NO such thing as Thanksgiving music .. (except for maybe Over The River and Through The Woods) therefore, Thanksgiving is just a precursor to Christmas .. IMO. But – now I don't have to justify my decisions to deck the halls before removing the pumpkins from my porch. Because it really is that time of year now! (There's 9 feet of snow in my backyard to prove it.) It's that time of year where you wrack your brain trying to decide what in the world you are going to get for people. Like your daughter's Kindergarten teacher, or your ministering sisters … or your husband… I swear that dude is one tricky mister to shop for!
[show_shopthepost_widget id="3391503″]
Luckily, gifts for neighbors can be simple! Grab a snack at the store, tie a tag on it with a Christmassy saying and you are gold. Silver and gold to be specific.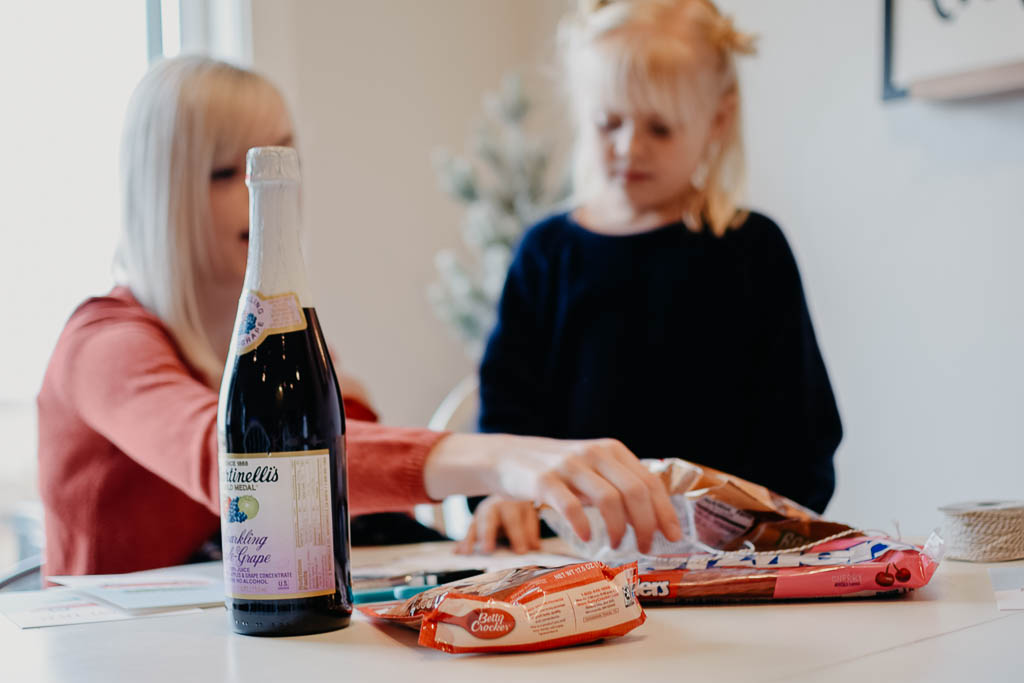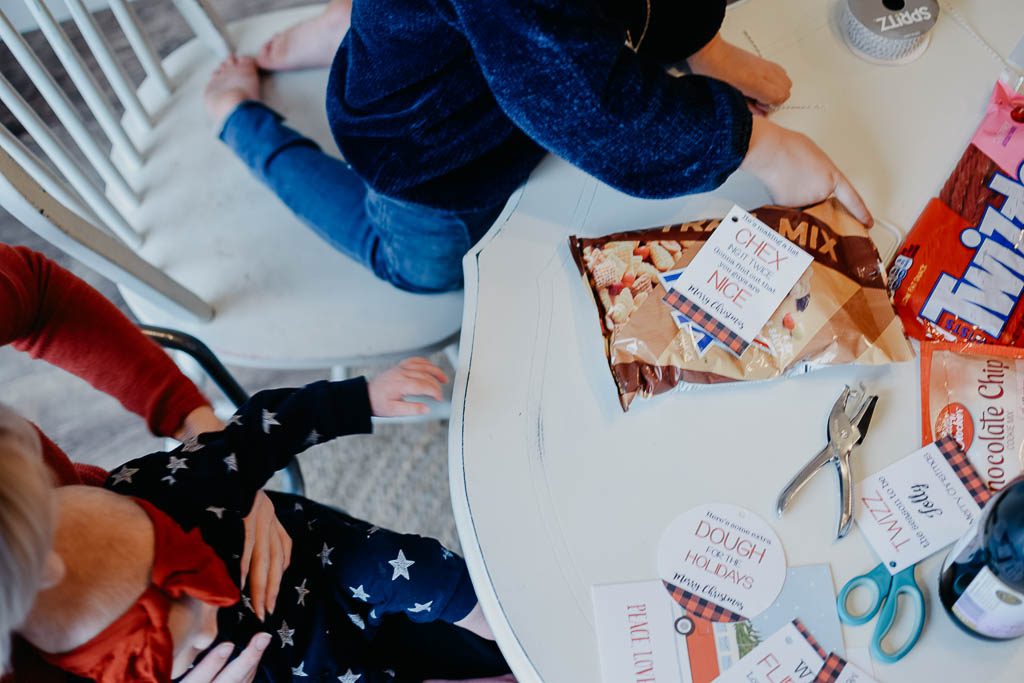 [show_shopthepost_widget id="3391503″]
I've loved getting the girls involved on the gifts this year. With Daddy being gone, I've felt our Christmas spirit a little on the deflated side. No matter how many Hallmark Christmas movies I binge watch, I still feel a tad out of touch with the season this year. I decided to take the focus off myself and that fact that we're missing him, and focus on others. I know the most memorable Holidays in my past were ones where we focused on others. In fact, my favorite Christmas tradition growing up was caroling on Christmas Eve with my family. We would prepare plates of treats and deliver to the same families we visited every Christmas Eve. It became such an important tradition and these families started waiting for us, and having gifts for us in return. I looked forward to it every year. And even though my Mom hated it ? it didn't feel like Christmas until we walked up the last snowy driveway, rang the last doorbell, delivered the last plate of cookies, and sang the last verse of Silent Night .. That my pre-pubescent cousin usually started wayyyy too high and embarrassed us all as we strained to match his pitch! What is your favorite Christmas tradition??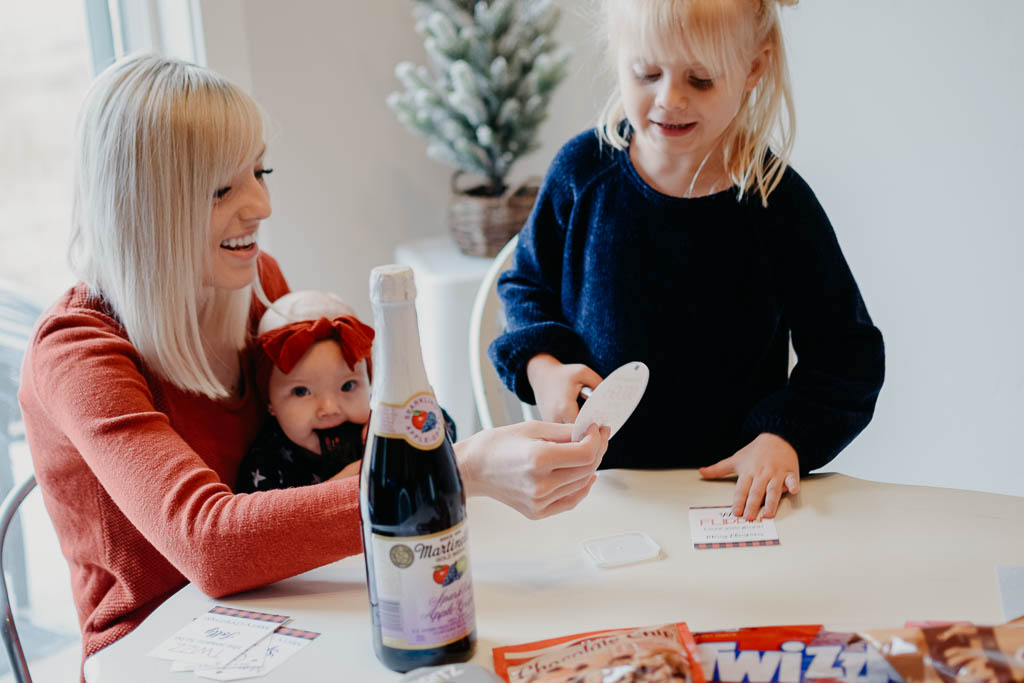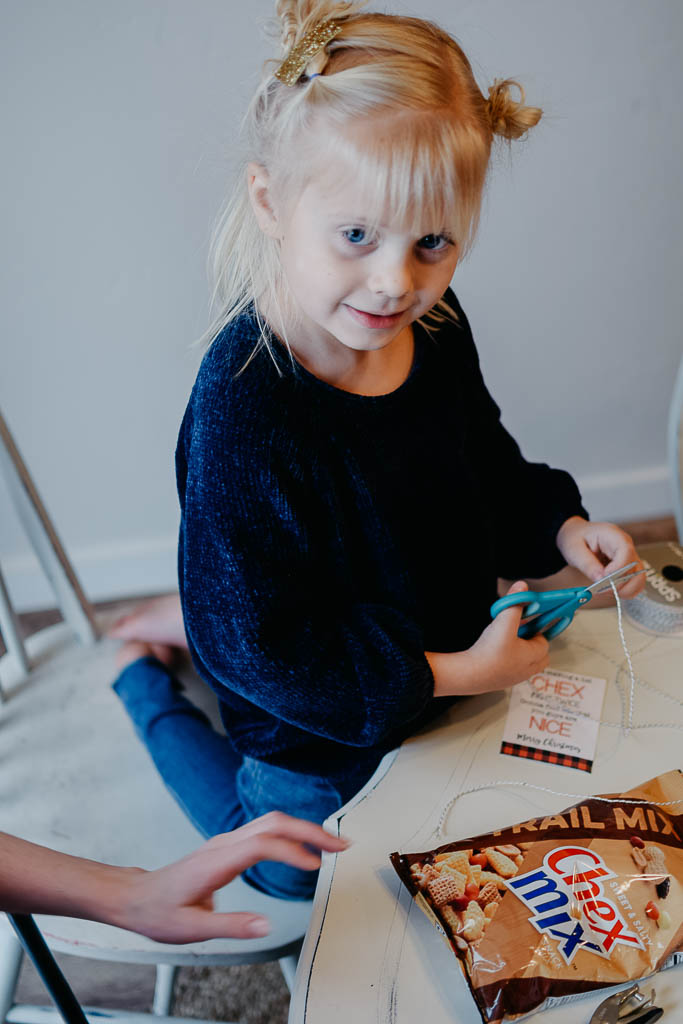 I've come up with 5 simple gifts for teachers, neighbors, and ward members AND I've included FREE printables to go along with them! That means you've just checked 5 people off your list! And, I'm no Einstein, but if you doubled it – you could cross 10 whole people off your list. And then treat yourself to a soda and a sugar cookies because it's only December 3rd and you're way ahead of me! You go Glen Coco!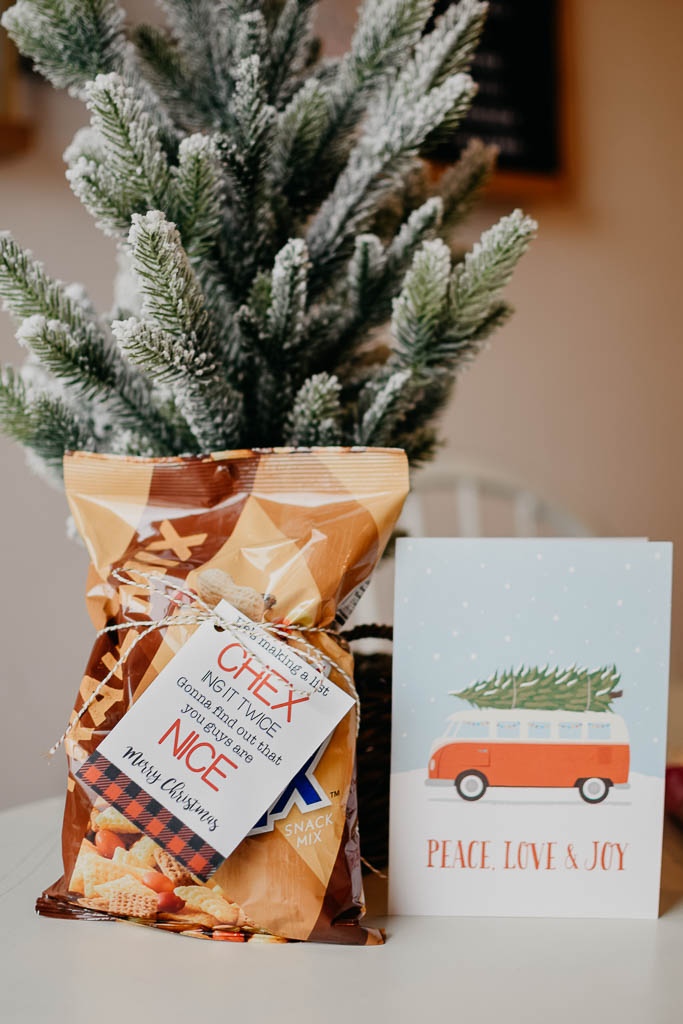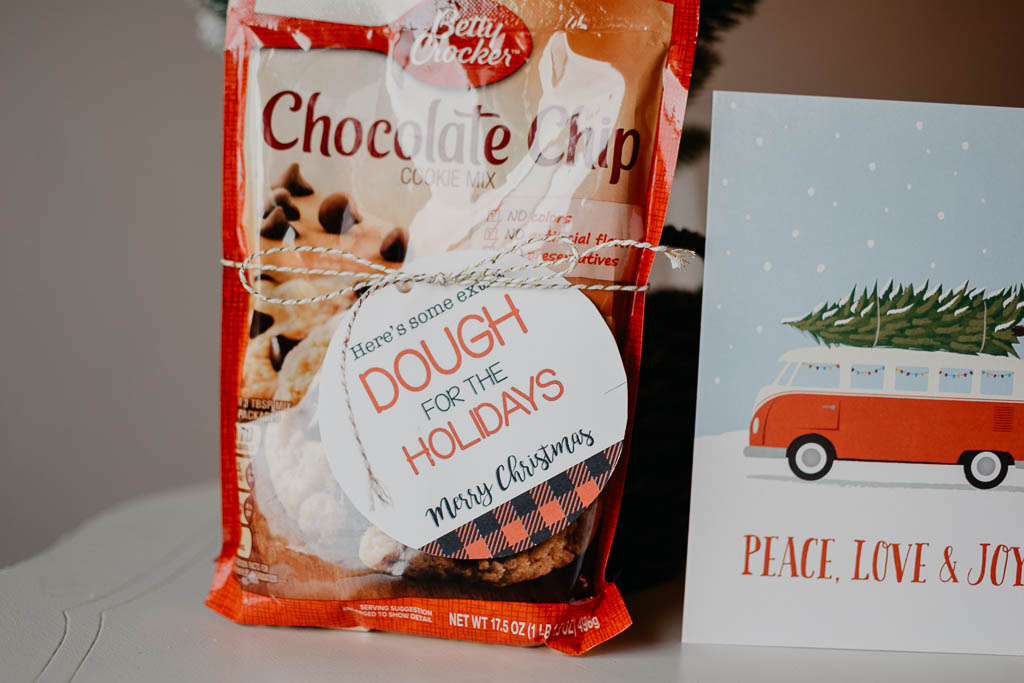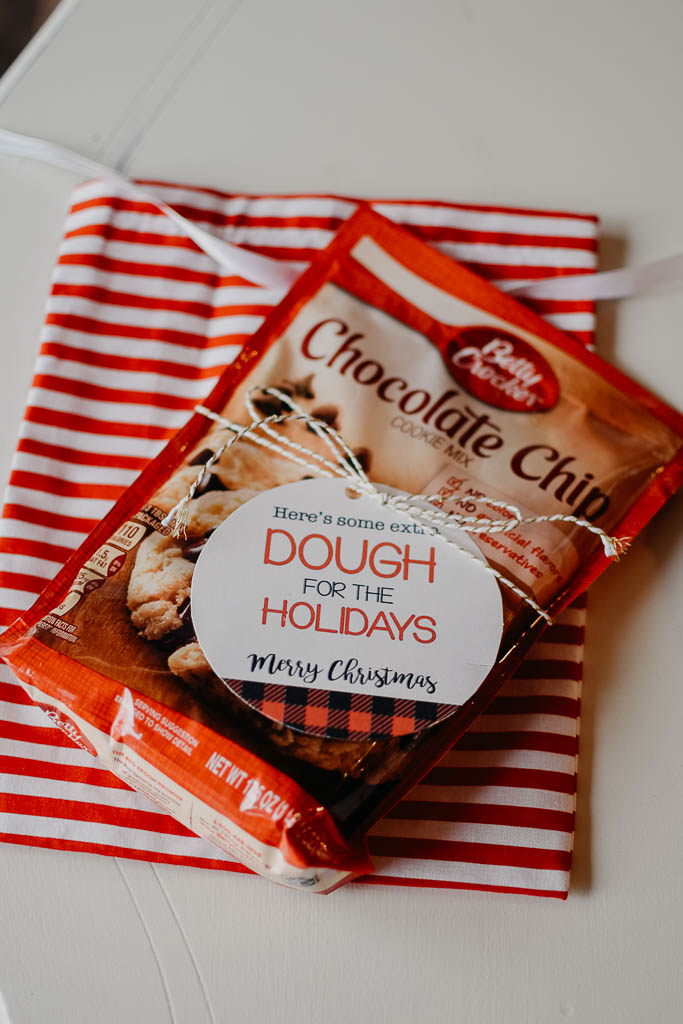 I have one more tip for you this Holiday season! Wrapping, although fun for the first few days, can get tedious and straight up obnoxious!! I made the unholy mistake of buying glitter wrapping paper. Needless to say I have had to vacuum every night for the last few days. Cue these handmade reusable Christmas gift bags! They are an amazing way to simplify Christmas this year (and save your back from vacuuming if you made the same mistake as me.)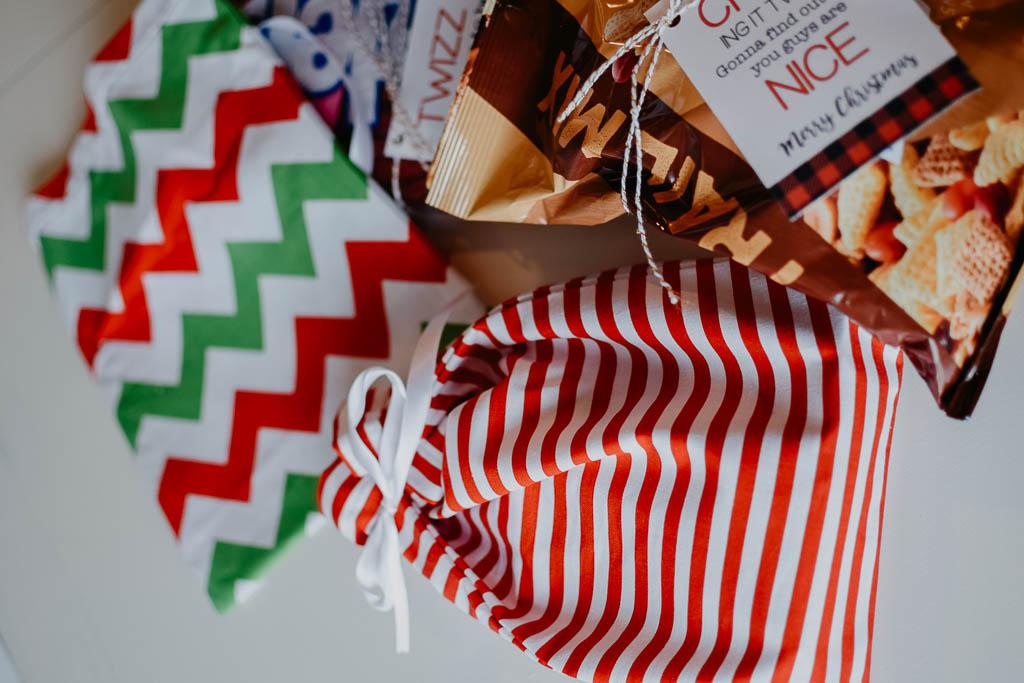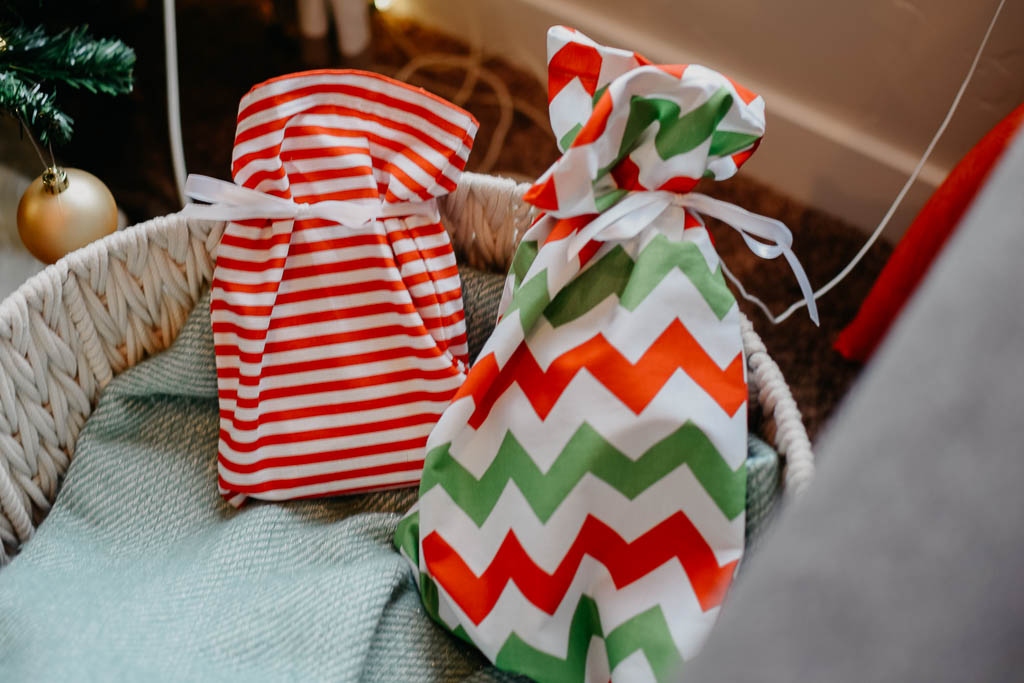 They are so easy to use, reusable, and best of all, easy clean up! You know those super awkward shaped items? That trigger PTSD from those geometry days as you try to figure out how to maximize your wrapping paper usage? Save your sanity and use these reusable bags! Even better, you can use code: je53 and get 53% off your order and save your hard-earned Christmas cash!
[show_shopthepost_widget id="3391503″]