This post has been sponsored by Del Monte. All thoughts and opinions are my own.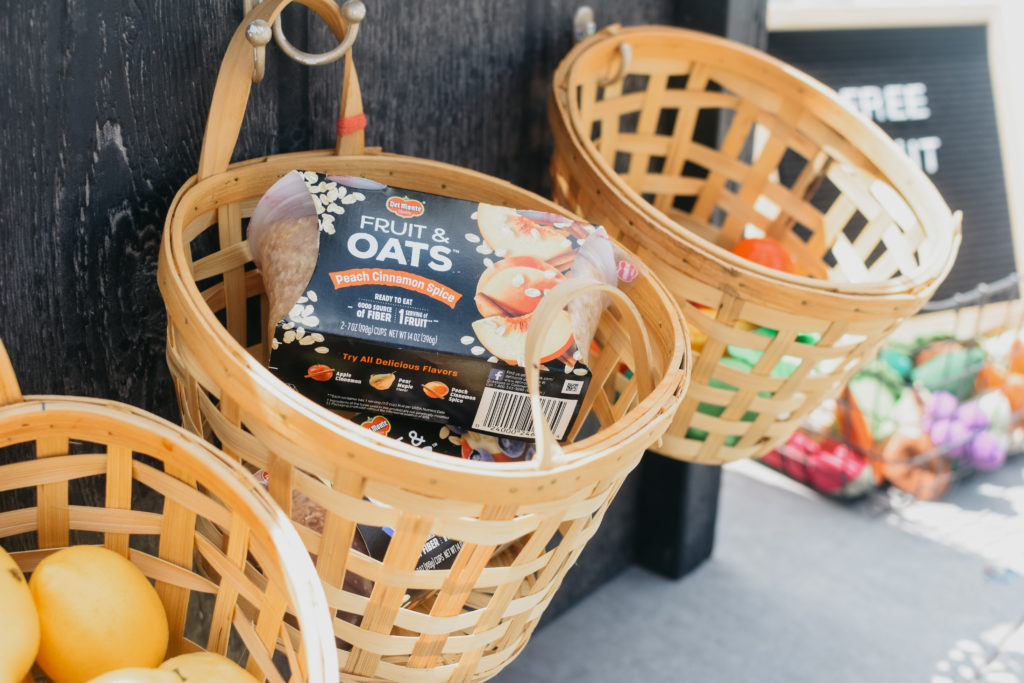 So … the last few months … am I right? Things have been craaazy!
There has been one constant though. I'm constantly wondering how I can be a better parent. A better mom. A better educator. A better comforter. I can't control the world and the circumstances my girls will encounter. But I can help control how they cope with everything going on.
Ever since we did our "Light the World" initiative in December, my girls have been begging to do random acts of kindness. The focus of serving others really helped us forget about our (crappy) situation last Christmas. It really brought us joy to see joy on others' faces.
We decided with all the sickness, heartbreak, and loneliness going around, we would set up a fruit stand with our recently upcycled lemonade stand (and the help of Alberstons). But not only would we set up the stand, we wanted to offer FREE goodies to our friends and neighbors!
We included Del Monte® Fruit Cup® Snacks – made with 100% juice, Del Monte® Bubble Fruit®- a fun and exciting new fruit cup snack perfect for school or at-home that the whole family will enjoy, Del Monte® Fruit & Oats™- a ready-to-eat oatmeal with one full serving of fruit*, 20g of whole grain oats, and are delicious, and Del Monte® Fruit Crunch Parfait – contains 2 billion probiotics per serving (contains 2 billion CFU (colony forming units) and supports digestive health as part of a balanced and healthy lifestyle*
Contains one full serving of fruit (each container has 1 serving (1/2 cup) fruit per USDA Nutrient Data)*.
I picked up all this Del Monte goodness at my local Albertsons, and using the mobile app, I was able to snag some coupons and save extra! I love shopping at Albertsons because of the close proximity to my home and the option for grocery pickup when I need it! I found all this in the cereal aisle right near the applesauce!
It was so fun to take an afternoon and just give to those around us. To see the smiles on the faces of our friends, and my girls. Those are smiles I will never forget… (And I know our friends were smiling because of the delicious wholesome fruit of Del Monte made with 100% juice?)
At the end of the day, we are all walking our own difficult paths. I want my girls to remember that helping someone smile can be the change in their day. We never know what someone else is walking through – but we can always try to make their day better. And adding a little deliciousness to someone's day never hurt!
Check out Albertsons for saving on lots of great products during their Anniversary Sale. Especially Del Monte fruit cups! Maybe you can set up your own Free Fruit stand in your neighborhood!
\
Legal Disclaimer: *Each container has 1 serving (1/2 cup) fruit per USDA Nutrient Data
Legal Disclaimer: **Contains 2 billion CFU (colony forming units)