First of all, I have to express my disappointment that nobody recognized my movie quote from my last post. I'm even ashamed to call Brittney Bird my sister after missing it. Ouch. If anyone wants to redeem themselves, the point value just doubled and you can now win 20 points for identifying it! To see the post click here.
Now that we have that out of the way, hi! Happy Monday y'all! I hope everyone had a wonderful weekend. Today's post is about the #momlife. If you know me, you know that I am a perfectionist. If you didn't know that about me .. Hi! It's nice to meet you. My name is Jamie and I am a perfectionist. For some reason I have this need to be perfect at things and if I don't meet that unrealistic expectation I can be incredibly hard on myself and tear myself down. It's this beautiful weakness The Lord gave to me. I say it's beautiful because, as with all weaknesses, it has the potential to become a strength. And at times I do see the strengths that are evolving from it. … Other times I just see it as unnecessary and debilitating. Often times it's the latter but hey, I'm still learning.
When I became a mother – this theme of perfection was all consuming. I wanted needed to have the perfect baby and be the perfect mother. I couldn't stand to hear anyone say anything about my sweet baby's tendencies that implied she was less than perfect. As if her imperfect behavior was a reflection of my "imperfect" parenting. It only made sense that if I had a fussy baby it meant that I was a less than mediocre mother, right? Well of course not. And I'm not saying these thoughts are logical, but for me, they can be so real and painful. This is just me. It's who I've always been.
Motherhood is such a beautiful thing. Yet when I let these thoughts cloud my vision – I become blind to the beauty and succumb to the ignorant fact that "I am not enough". Being a Mom can be challenging. But I don't want to focus on the challenges and how well I "appear" to be facing them. I want to focus on the person the challenges are forming me to be. I want to focus on the silent moments amidst the challenges that I wouldn't trade for anything. I want to focus on the sleeping babies and the giggling toddlers. Those moments that will one day be gone leaving a perfectly imperfect mother.
What I have since learned, and have to keep reminding myself, is that there is no such thing as "perfect mothering". Well, perhaps there is but it's certainly not attainable by myself nor any other mother here on earth. However, we can all be the perfect mother to our own children. We can be that perfect mother by simply trying to do our best for our own little peanuts. It doesn't mean we won't make mistakes. It means we will keep trying even when we make those mistakes. It means we will make our children our priority and we will fervently pray on their behalf. By doing so, He will help us reach our own level or "perfection". Day by day we grow into the beautiful mothers he wants us to be. None of us are perfect, but we are all perfect for our own babies.
In a world where there are so many differing opinions, methods, strategies, and styles; let us all respect each other and our differences. Let us celebrate our successes and the successes of others. Let us forget our imperfections because everyone has them. There are too many sources out there telling us that we are not enough in any of our forms. We are enough! We are beautiful. We are loving. We are perfect. Here's to all the Moms out there living the #momlife. I respect you.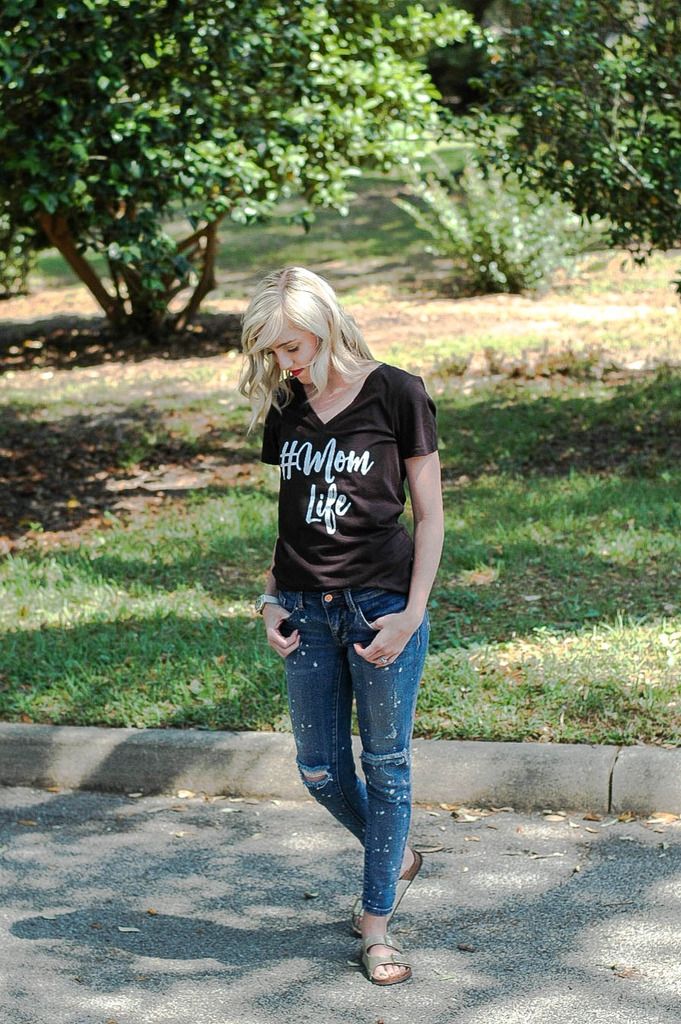 Mom Life Uniform brought to you by:
T-Shirt: TickledTeal.com
Jeans: Target (Similar)
Watch: OliviaPratt.com
Shoes: Macy's